Affinity Groups – helping employers and associations build a better benefits ecosystem
Employers and Associations provide insurance for approximately half of all Americans. These groups must deal with several external factors:
An aging population
Decreasing health statistics
A higher expectation to provide solutions for employees and members
Benafica's ability to leverage our extensive insurance advisory expertise, administrative capabilities, and vendor management skills helps employers  and associations craft and simplify their healthcare and benefit offerings.
We are working to build a healthier benefits platform and a better future for insurance.
group benefits
A unique benefits package for each company
a changing dynamic
Each organization has a unique personality and culture. Establishing a group benefits package that promotes health and wellness while meeting budget expectations and promoting company culture is a challenge every organization faces.
Benafica is here to help you reach your benefit goals.
benafica business solutions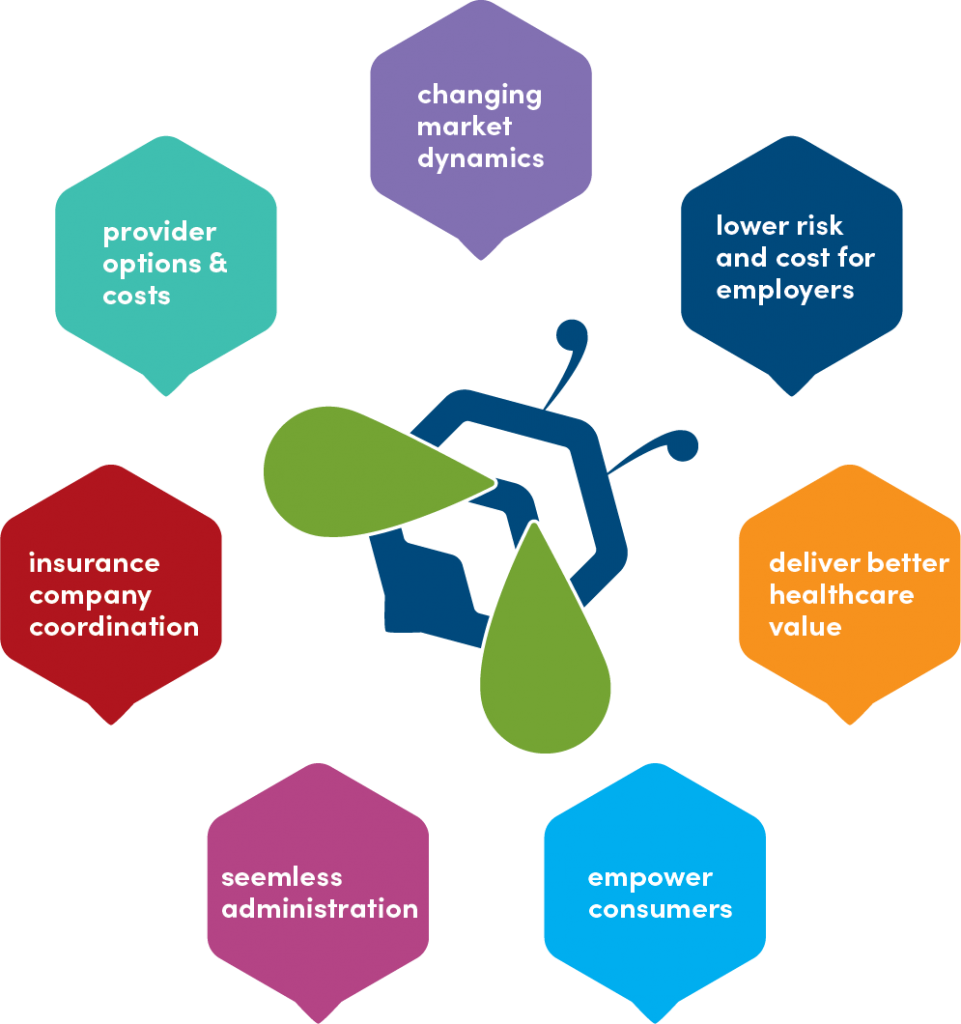 benafica benefit exchange – a unique option
How does the Benafica exchange work?
A Personal Benefit Account (PBA) is established for each employee.
A benefit allowance is made through

payroll

into each PBA.
With assistance of personal benefit counselors employees select their benefit plans for health, dental, life, disability etc.
Insurance premium payments are automatically deducted from each respective PBA.
What is a benefit allowance?
Money contributed by the employer to purchase benefits
Money contributed by the employee to purchase benefits
Employer's Defined Contribution
Defined Contribution
Employer sets a monthly benefit allowance (a defined contribution) for employees
Employee Classes
Give different contributions based on job criteria and family status
Payroll Information
Use your existing payroll system to make contributions
Employee's Voluntary Contribution
Choice
Employees choose their insurance plan for health, dental, and more
Voluntary Contribution
Employees contribute toward their share of the premium through a payroll deduction
Portability
Employees can keep their insurance when they leave the company in many cases
benafica benefit exchange solutions:
Healthcare costs continue to climb, increasing the burden on employers and employees. Benafica's platform is here to help. Benafica administers private and public exchange solutions, helping employers revamp how they sponsor, structure and deliver health and ancillary benefits. Whether your employer supports group or voluntary solutions, Benafica gives you coverage options for your complete workforce.
retiree medicare
Medicare and Long Term Care are the most overlooked areas of retirement planning.
the benafica advantage
Supplying employees with healthcare options later in life is a benefit that employers can bring to their employees which truly sets them apart. The good news is that we are living longer.  This means that good retiree healthcare planning is essential in having access to all kinds of affordable care, that one day we will need.
Let Benafica help you provide a financially-sound retiree healthcare benefit program that supports your employees and distinguishes you as a benevolent employer in a crowded marketplace. We want to accomplish this within your budget while supplying top-tier benefits.
Benafica's Medicare and Long Term Care expertise is a unique offering.  We believe in taking a long-life approach to healthcare planning.  Your employees will appreciate that their employer does too.
associations
Most Associations are organized around a common professional or personal interest.
Benafica's experience in creating and administering successful insurance programs for associations and their members helps bring additional value to support the association's core mission. Our formula includes providing innovative products, a bespoke technology platform, and best-in-class customer service to our association partners.
Supporting associations and their missions is a passion at Benafica. Our clients inspire us to continue to reach higher and help them achieve their important goals.
Interested in what Benafica can do for you?